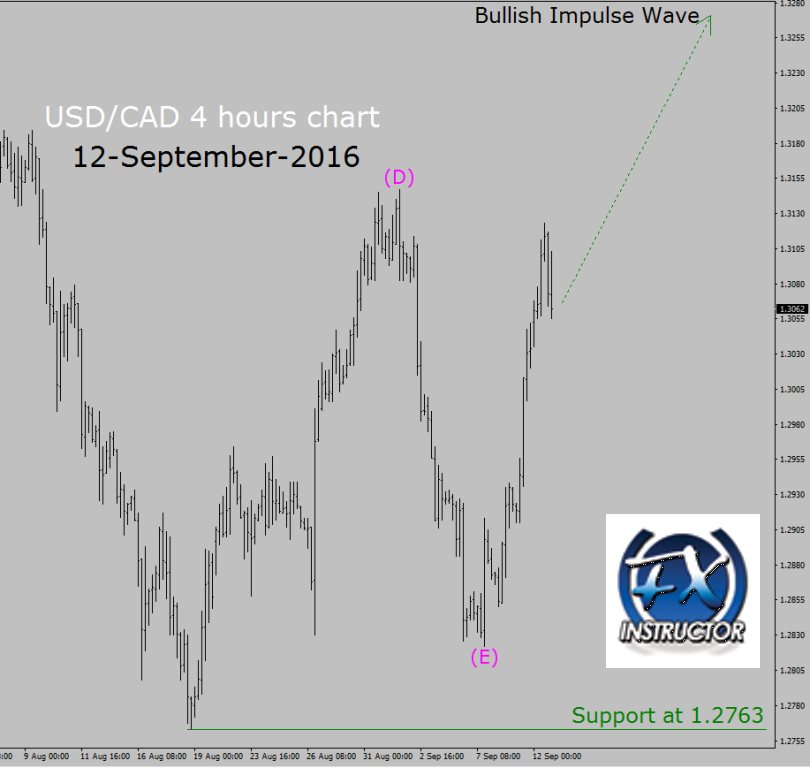 Trend is bullish in USD/CAD currency pair, 4 hour time frame. As I have suggested past week during my daily Live trading room session, market is rising up on a long term basis to complete bullish Impulse wave leg which is part of a larger version of a bullish Triangle pattern and traders should look for a long trade. So, all those Forex traders who have followed the analysis have made the right decision as the price has ascended. Strong key support level is present at 1.2763 price level.
Be sure to check out daily Forex market updates via Live Trading Room. In my judgement, price action in USD/CAD is now going to rise up more towards 1.3280 price level to print a bullish Impulse Elliott wave pattern, in coming trading days.
Currently; bullish Impulse wave pattern looks in-complete and price action offers a possible Buy trade setup to join an up trend. However; if price of USD/CAD currency pair breaks below 1.2763 critical support level then I might like to stay out of the market and re-examine the four hour chart of USD/CAD currency pair.
Want to know how to use this data for your trades?
Join us daily in the Live Trading Room and watch us analyzing the live Forex market in real time – and opening positions right before your eyes."